Developed by the global Adventist Church's communications department in partnership with Hope Channel, the popular Heroes: The Bible Trivia Game will celebrate its one-year anniversary on March 25.
Since its release, the game has not only improved the biblical knowledge of more than 120,000 people—most of them aged between 18-24—but also inspired many to undertake Bible studies and be baptized.
William Timm, the coordinator of Heroes Bible studies in Brazil, says that it is encouraging to witness the enthusiasm for Biblical knowledge among young people.
"I feel glad to see our church using different types of approaches to attract specifically young people, and I feel we are opening a world of opportunity," he says. "Studying the Bible can be very fun and seeing new students coming to us through a game demonstrates that we need to be ready to see new features, tools and behaviors as wonderful opportunities to preach the gospel."
In this continued effort to improve the app's features and reach, Hope Channel plans to make the game available in Hindi, Chinese and Tagalog by its one-year anniversary. They are also scheduled to release a new Bible study series about the three angels' messages. This will be a welcome addition to the existing "The Big Questions" Bible studies, accessible online or through the app.
According to Heroes project manager Jefferson Nascimento, more than 2300 students are currently taking The Big Questions Bible studies (1190 English, 576 Portuguese, 435 Spanish, 104 French, 19 Romanian), not including the studies being taken through Novo Tempo—Hope Channel in Brazil—bringing the total number to almost 3000.
Despite its enthusiastic uptake, Nascimento acknowledges that it is difficult to track the progress of individuals and how many people are baptized as a result of these studies.
"To change this, we are creating an offline version of the Bible studies, so it can be used as a guide in local churches, pathfinder clubs, small groups and schools," he says.
TESTIMONY———GABRIEL HARRISON
The Heroes app has been particularly popular in Brazil, where the Adventist television channel Novo Tempo is targeting its promotion.
Gabriel Harrison, a young man studying at the Adventist Theology Seminary, shared his testimony with ANN about how the app deepened his walk with God:
"I got to know the game through Instagram, on the profile of the Novo Tempo television channel, and I really liked this idea of mixing a game with the Bible. Although I already knew the stories and heroes of the game, when I played Heroes I was able to realize that I didn't know everything about each character. I felt motivated to go back to the Bible and look for details I hadn't seen before. So Heroes encouraged me to go deeper into the biblical text, and delve deeper into the narratives," he says.
Importantly, Harrison said that Heroes changed his perspective and taught him how enjoyable studying the Bible can be.
"I understood that studying the Bible can—and should—be something fun that I enjoy doing. I understood that this is God's will, He wants us to enjoy being in touch with the Bible, and as a consequence, being in touch with Him too."
TESTIMONY———DANIEL GEBER
While many Christians have found Heroes inspiring in their walk with God, others have encountered Heroes along their journey to Christ for the first time. One such man is Daniel Geber, who was baptized following his interaction with the Heroes app and generously shared his story with ANN:
"Before I met Jesus, I was out there in the world. I was an atheist," he begins. "Some college friends were having beers and one of them was a believer in God. He asked me, 'Where do you think our emotions and thoughts come from?' I was really impacted by that question."
After months of further thought, Geber began to recognize that human consciousness must have an intelligent mind behind it. "The level of depth of our emotions and thoughts can't occur randomly, it has to be planned in some way," he says.
Geber began to study more about intelligent design. "I started watching Christianity-atheism debates and read their arguments. I ended up believing that God exists, so I started studying the Bible to know more."
As he studied, Geber also learned of the Sabbath. While he was praying about it, he saw a job opening at Heroes: The Bible Trivia Game.
"I wanted to go for it because it was a biblical game," he explains. "But the job was available for a programmer. I was a sound designer, but I sent in the application anyway. I really wanted to work on the project."
Following his application, the team at Heroes contacted Daniel to learn more about his capabilities. "During those conversations, I found out they were Seventh-day Adventists," says Geber. "It was my first contact with Adventists, and I thought they were joyful and happy."
Coincidentally, a few months later Geber received a copy of the Sabbath school lesson quarterly in his mailbox. "It was meant to be for a neighbor in my building, but it went to me!" he says. "I thought it must be a sign for me to go to church."
One Sunday, Geber visited his local Adventist church—Central Adventist Church, Natal (Brazil)—for the first time. "There were still a few people there," says Geber. "But I didn't realize it was the wrong day at first." Then, he told his co-workers at Heroes about his experience, and they contacted local church leaders and told them that next Sabbath, Geber would be there.
"There was a great reception because someone knew me and introduced me to the church," Geber says. "I went to a Sabbath school for young people. It was an amazing day. I want to be there for my whole life!"
Geber then undertook Bible studies with a friend he met at church and was baptised two months later.
"The Heroes app helped me to have more knowledge about the Bible. The visuals are nice and it's young and cool. It made me more interested in the Bible, and the team I work with helped me along on my journey to Jesus," he says.
TESTIMONY———ADRIANO LUZ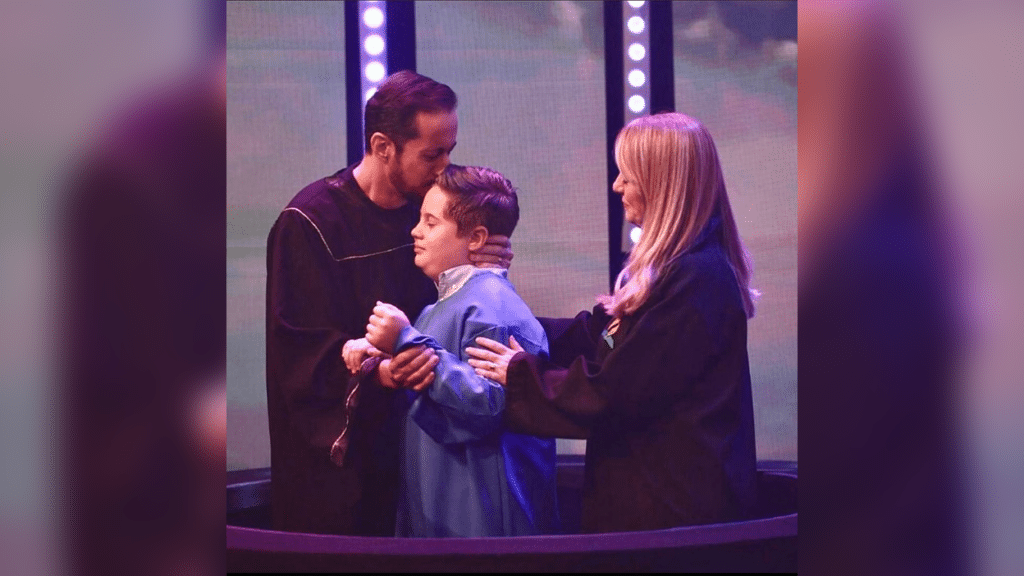 Another young man was baptized in September 2021, partly thanks to the Heroes app. Web and television director of Novo Tempo, Adriano Luz, shared the story of his son who has dyslexia and doesn't enjoy reading but loves playing the Heroes game. He asked to play the game on his fathers' phone and kept reading the stories of each hero to be able to earn points and improve. The game inspired his personal walk with Jesus, and He was later baptized.
The testimonies being gathered by Hope Channel demonstrate how tailoring ministry through gamification and attractive aesthetics is having a profound impact on young people across the world.
"Games are popular around the whole world, but people need to know of their existence in order to play them. I think our church is doing an amazing job spreading out Heroes," says Timm.
There are many other stories that will be shared by ANN in future about the impact that Heroes is having around the globe. To share your Heroes story, click here. To download and try the game for yourself, visit https://www.heroesbibletrivia.org/. Or to take "The Big Questions" Bible studies, visit https://study.heroesbibletrivia.org/
Source: Heroes Players Get Baptized, Thousands of Others Undertake Bible Studies